Home
NEW ! – OBD PROTECTOR*
NEW ! – OBD PROTECTOR*
OBD PROTECTOR* (Diagnostic Port Lock)

Block access to your vehicle's OBD port and prevent theft by hacking the on-board computer.

*Patent pending

*THE OBD PROTECTOR IS ONLY AVAILABLE AT YOUR CAR DEALERSHIP. PLEASE ENQUIRE !
* CAUTION: AT THIS TIME THE OBD PROTECTOR IS NOT COMPATIBLE WITH VEHICLES OF THE GENERAL MOTORS FAMILY.
DID YOU KNOW
Your OBD port is universal and gives access to your vehicle's on-board computer. Thief can also use this port to steal the car.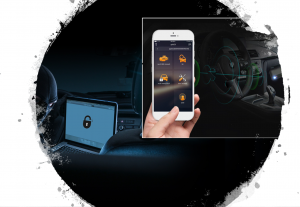 THIEVES ACCESS THE VEHICLE'S ON-BOARD COMPUTER
OBD PROTECTOR
(Diagnostic Port Lock)
An extremely strong metal protective cap prevents access to the OBD port. Without your coded key, the OBD protector is impossible to be removed without damaging the plug and the wiring harness.
No OBD access, means no electronic bypass of the vehicle by the thief!
SURPRISE AND THWART THE THIEF
Thanks to the OBD Protector*, the car thief can no longer access the OBD port and the latter will have no choice but to abort his attempt.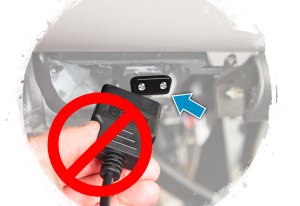 UNAUTHORIZED ACCESS DENIED
Ask your car dealer for more details.
Sherlock's OBD Protector * proves its worth:
Auto theft attempt failed thanks to Sherlock's OBD Protector. The thief seems very dismayed at not being able to plug his equipment into the vehicle's OBD port and abandons his malicious project.
PROTECTING YOUR VEHICLE FROM THEFT
Any vehicle, any time, in plain sight and even from your own driveway at night, thieves are stealing vehicles. Here are some tips to help you protect your vehicle from theft.
VEHICLE THEFT WARNING AND PREVENTION TIPS
Investigators with the York Regional Police Auto/Cargo Theft Unit are advising residents they have identified a new method being used by thieves to track and steal high-end vehicles across York Region.

Vehicle owners are encouraged to consider the following safety tips to help prevent their vehicles from being stolen:
• If possible, park your vehicle in a locked garage. Most vehicles are stolen from a driveway
• Use a steering wheel lock. It will also act as a visible deterrent
• Install a lock on the data port. This simple device can be purchased online and blocks access to the computer port where the thieves gain access to reprogram the vehicle's keys
• Consider purchasing a quality video surveillance system. Ensure cameras are properly placed and functioning for day and night time use. Familiarize yourself with the system so it can be reviewed and accessed easily
• Inspect your vehicle regularly and call police if you notice any suspicious potential tracking devices