Who is Sherlock ?
Sherlock at a glance
What comes to mind when you hear the name Sherlock? If you said "intelligent" and "expert," you're describing us! As specialists in the development of innovative vehicle antitheft solutions, we've built an excellent reputation with our exclusive Intensive Antitheft Marking®. We're also focused on the future, constantly seeking to forge new relationships with our customers and partners.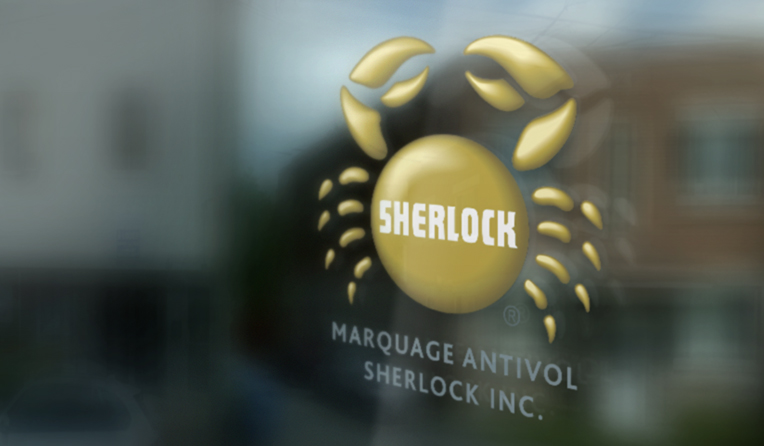 Mission
Ensure automotive security by way of Sherlock's proven products and team of highly qualified professionals.
" Remain the industry leader by providing the best possible antitheft protection. ".
Our timeline
Sherlock turns 35!
Over 1 000,000 vehicles now have Sherlock's protection, making it the perfect time to reflect on our company's success.
Sherlock Antitheft Marking inc. is founded
The first vehicle is marked on May 11, 1983
The Sherlock stenciling system obtains Canadian and U.S. patents
Sherlock introduces marking for heavy trucks and motorcycles
Our marking equipment receives Canadian patents
Company headquarters are built in Longueuil
Sherlock wins the Dominique Rollin Award for top service company
Sherlock franchising begins in Germany
Commerce magazine publishes an article about us
In a booklet on automotive security, Protégez-vous magazine and the GAA name Sherlock the # 1 antitheft system
Laser-produced stencils are introduced
Partnerships with auto glass companies Lebeau and Duro expand Sherlock's Quebec distribution network
Sherlock launches marking for boats and recreational vehicles
Sherlock obtains European patents for its Intensive Antitheft Marking® concept and business methods, and applications for the same are pending in Canada and the U.S.
The company's image and logo get a makeover
Sherlock celebrates its 25th anniversary
Sherlock revs up its first consumer ad campaign
The Montreal Police Department's SPVM information centre gives its patrol cars direct access to the Sherlock antitheft marking database—a first in North America
The Quebec distribution network grows with the addition of Mister Muffler outlets
U.S. patents are obtained for anti-theft and anti-corrosive tracking code methods
Sherlock releases an actuarial study confirming the efficacy of its Intensive Antitheft Marking® product
Sherlock wins the GRAND PRIX CRÉA 2014 in the "Publicité télé - service" category
Sherlock obtains Canadian Patent for its Method of preventing theft of vehicles using intensive marking
Sherlock wins the GRAND PRIX STRAT 2014 in the "services" category
Introduction of the Protector OBD and Sherlock 53
Commercialization in Quebec of KYCS Locate
Our latest ad campaign
The Sherlock security company entrusted its most recent campaign to Bleublancrouge.

The operation highlights the main anti-theft marking system.
Other campaigns
Sherlock commemorated its 30th year with an image makeover that complements our increasing visibility.

The campaign's key message: "Sherlock isn't just an antitheft device—it's an Anti-Thief system."

In our TV commercial, a would-be thief quickly decides to find a new target after finding the Sherlock golden crab on the vehicle he is about to steal.
Protecting Your Vehicle from Theft
Any vehicle, any time, in plain sight and even from your own driveway at night, thieves are stealing vehicles. Here are some tips to help you protect your vehicle from theft.